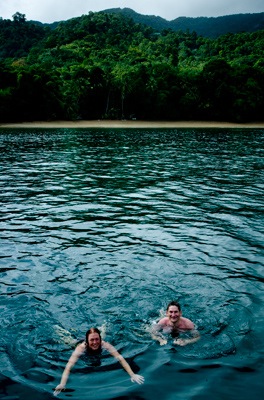 We were lucky to enjoy the endless hospitality of Deep and Mallika. The first night already, we experienced what magic can happen in the caboose: great cuisine from a small kitchen! The atmosphere on board was strengthened by a personal touch in our hut Warmth not only came from the boatman and -wife and the sun, but also from the freshly baked bread.
Despite the fact that you commonly find us in the mountains between snow and ice, we loved snorkeling, swimming and sailing the see for a change. Beautiful nature above and below sea level! We even saw two dolphins that cheerfully swum with us but then got bored from our 'slow' speed and accelerated towards the horizon.
The nature is very colorful. So we loved to see that all is done by Deep and Mallika to protect it from our presence in the most silent and remote bays — you know, the bay's you see on those idealistic postcards.
I hope you think of us when you enjoy the delightful new sun screen above the front deck lounge; we were the inspiration for that invention for your comfort. Inventions of which you will discover many during your stay!
Lex and Margreth