Do you want to get away from it all? And enjoy the sun, the crystal clear Ionian Sea and sailing between the beautiful Greek islands? Then we have good news! Because the Ionian islands in Greece are open again. And we are going to sail in Greece again! So we are very happy to be able to offer our adventurous inspiration sailing trips in Greece again from June 27. Will you sail with us?
Sun, sea and wind in Greece
You are welcome aboard the fast and comfortable sailing catamaran Yemaya. And she is not just any ship. Because she has sailed around the world. You'll feel that when Yemaya is made your home during your vacation.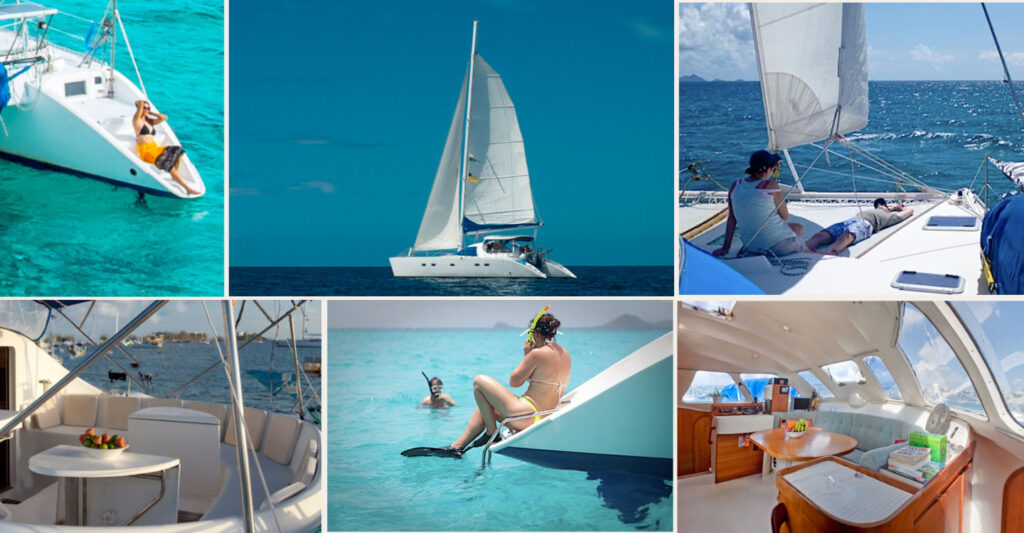 A Day on Yemaya
What does a day spent on Yemaya look like?
After a good night's sleep, wake up in a comfortable cabin. And hear the soothing crunch of the organisms that live at the bottom of the sea. Yemaya gently rocks back and forth. Every now and then you hear a splash. That's the sound of a fish jumping out of the water.
Then you get up and stretch out on the deck. In the morning twilight, you see the sun rise in the distance. For the rest it is completely silent. From the deck you dive straight into the sea. And you feel all your pores jumping open in the wonderfully fresh seawater.
After your swim session, you climb back on board. Your body feels wonderfully awake and fresh. No shower can really compete with this! Now it's time for the daily mindfulness exercises.
Inspiring exercises for personal leadership
Francisca Boel is a category 1 certified mindfulness trainer. Together with her you will do exercises that sharpen your attention and awareness. While the rising sun sets the mountain across the bay in a bright pink glow. That is indescribably beautiful.
With us on board you will be offered our "at the helm" program in the morning in a playful manner. With exercises that help you find peace in your head. Because you sharpen your attention and your senses. And you get tools to live and work more effectively and with more resilience and satisfaction. So you enjoy a double vacation: vacation for your body and for your mind.

Sailing, terrace and ' snorkeling
After a nice breakfast and some lazing, walking or swimming, often at the end of the morning the wind picks up. Then Yemaya gets restless and pulls her anchor. Because she wants to get away! For experienced world ocean sailor Prem Deep, this is the moment to hoist the sails. And off we go!
This is relaxation par excellence. Because wind, sea, sun and sails bring your mind to rest. Moreover, on the spacious deck there are places everywhere where you can sunbathe, laze, read. Or engage in a conversation with someone. And would you like to know more about sailing and navigation? Then talking with Premdeep is the right choice for you.
At the end of the sailing day we go for a walk, snorkel or grab a terrace ashore. And a day of sailing in Greece is very good for your sleep. So at the end of the day let Yemaya lull you to sleep in a quiet bay. With the gentle murmur of the sea in the background.
Reservations
We are going sailing again in Greece! Sail with us! Because this is a unique experience. Greece is a popular travel destination. The islands of the Ionian Sea are less known. So extra beautiful and less touristy. Preveza has an international airport from where you are within 1 hour in the port of Lefkada. And there your adventurous inspiration sailing trip begins. So book quickly. By the way: we stick to the prescribed corona measures.